JBlueLineSE

- Standard Edition

Experience the free on-line version first!

© St. Mark's Bell Ringers. Written by .
The method collections are © Central Council of Church Bell Ringers and are included free of charge.
Purpose

To provide an opportunity to learn methods really well before taking a rope to ring them.
To make the software available on desktop platforms, such as WinXP, Linux, MacOS, without needing to go on-line.
To raise money for St. Mark's Bell Fund. Proceeds will initially contribute towards remaining funds required for the restoration appeal. Following the restoration, funds will be put towards maintenance of the bells in general.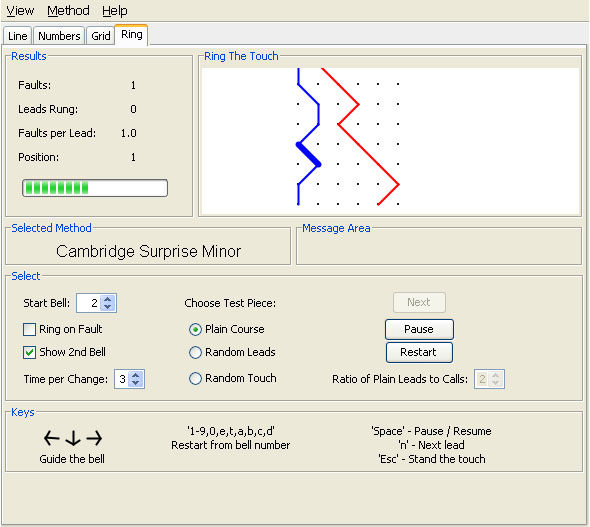 Introduction
It has been suggested that a great way to learn a method other than writing out lines on paper is to use a computer program (see

"Learning Methods"). The reasons for this are:
You can 'ring' the changes faster. This is all about testing speed of memory recall. Without actually pulling a bell at the same time, you should be able to recall the method in double quick time!
Your answers are checked for you by the software as you 'ring', and very thoroughly against the original line. Hence you cannot make transcription or comparison errors, and part of the tedium of learning is removed.
Its way more fun!
Until now, not even affordable software has really filled this need. Abel is excellent for handbell ringers where the relative timing of two bells against the others is essential for learning. The hope is this software provides an easier user interface for tower bell ringers to use. Where only one bell has to be guided through the changes, precise timing relative to the other bells is not important to prove the blue line has been correctly remembered, or the calls correctly understood. Now you can be doing your last minute method revision whilst you are waiting for the last ringer to arrive for your quarter peal or peal.
The desktop version of this software is shareware, so you can 'try before you buy'. If you would like a quick way to experience how the software works, a free on-line version is provided.